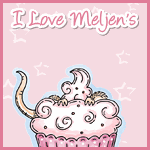 I used the cute spider (yes, I said CUTE SPIDER) I normally loathe spiders but as long as it's a stamp or sticker and cute and not realistic, I'm game.
This little guy is in the
dollar digi
section, I suggest you browse through all the
Halloween digis
as well because they are all so very cute.
So, for this card, I printed the image right onto Kraft colored card stock then cut the paper to form my card base, it's a single layered card GASP!! I actually did it, I rarely make them like this but I really like the outcome of this one. I enhanced the web with my glitter gel pen and could not get a good picture of it so take my word for it. Then added some Halloween twine across the top.
I love my google eyes and added a black and orange ones to the inside with matching washi tape
Here's the fun on the front, I found some halloween nail stickers in the dollar bin and added a spider and the Happy Halloween one along with the black and orange eyes.
His eyes ran a little on me but I think that adds to the quirkiness of the card. I added lots of white dots all over with my gel pen.
I hope you'll let me know what you think of my single layer card!