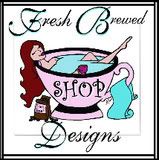 This is for the challenge going on for the above mentioned hop. You can get the image for free if you hurry.
Click here
to see the details.
I used my colored pencils to color her then covered her dress and hat with glitter glue. It's much prettier in person with all the sparkle, the paper is blue foiled too.
Thanks for stopping by, I hope you will let me know what you think.