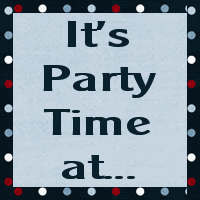 Today I am sharing with you a fun set of girls. As you can see Emily has tried to claim them for her own. Can you spot them? :)
How cute are they? I was going to do each of the Disney princesses but then decided to make up my own princesses. I had more fun than trying to figure out different hair and the gowns.
Instead, I found pretty papers and went from there.
OK, the party above has ended so I can rescue them and get better pictures.
I love their sweet little faces and rosie cheeks.
Notice the tilted crown? That one is my Emily, she gravitates to purple most of the time and she loves the new Disney princess Sofia and also loves Rapunzel who's dresses are purple too. She dances to her own music and is a crazy kid so her crown is just a tad crooked. :)
I had a lot of fun creating these fun girls and I think I spent more time picking through my papers to make their gowns than it took me to put them all together.
I don't know what little girl wouldn't be thrilled with these. I'd love to have a custom order for these and make a box similar to each guest.
Thanks for stopping by, please let me know what you think and if you'd like to make a girl project to link up, click the blinkie above and head over for the details.