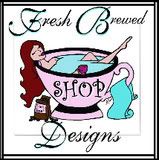 I used a technique I call spot lighting. I started by punching 3 circles from each of 3 different papers I chose for my background. I then used one of the negative spaces as a stencil for my printed digital image.
See? How fun is that? I used 3 spot lights, using colored pencils and mineral spirits to blend the colors.
Tada!!!! How awesome is this card? I LOVE it so much and HOW CAUTE! is that image?
I used some crystal effects and added a few sea shells and some blue sand. I covered the water area with the sand.
Here's another shot, I love it so much, did I mention that? I added a fabric covered button from Pinque Peacock to embellish my "sun"
Inside I added a fun sentiment
Thanks so much for stopping by, have fun with the new images :)
I adding this card to the