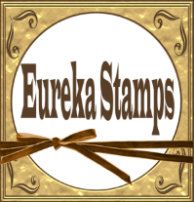 Welcome to another challenge with Eureka stamps. Today we are using no designer paper or making an all white card. Well, all white is VERY hard for me so I went with the slightly less difficult challenge of the no designer paper. Trust me it was a challenge!
As you can see I used a cool gold color and my favorite teal paper. I colored up my owl leaving him streaky hoping for the feathered look...did I make it?
I hand cut the branch then ran it through my wood grain embossing folder. I also used my Charles embossing folder on the teal and the dandelion puff on the gold layer.
This is a gate fold but I made it a bit different by making the image so big, I love the expression on his face so I wanted him big and intimidating! I might send this to my sister as a "Hey, where have you been" type card, I don't hear from her much, she's too busy :(
You can see the top of the embossed image poking above his head. I love that it make a crown look. Total score there on the creative flow!
I then added a fun flower from Pinque Peacock to girly it up just a bit! Had to get some bling on there.
I hope you enjoyed my card today. I love these challenges, it makes me think instead of just putting something together.
And as always, click the owl image to shop and the blog button to head over and link up with us at the challenge.
Thanks so much for stopping by.